Is a picture worth 1,000 words? If you're talking about photos for a Charlotte or York County area corporate event or industry trade show, YES!
Now that COVID restrictions are lifting, people are curious about in-person events. If they're not attending, they're searching for event recaps, announcements, and coverage. And that's good news for your company, especially if you make the most of your blog and social media channels.
Use Images to Create Content that Attracts Your Target Audience
There's a Workplace Wellness event in Charlotte coming up; we'll use it as an example to help you visualize how images can drive event sign-ups, participation, and visibility for your brand online.
Suppose you're the host of the event, and you're having trouble getting sign-ups. A professional photography team can help you stage event photos to share before the event, encouraging click-throughs and more views of the event sign-up page. (Content with images gets 94% more views than content without images. –Social Media Today)
After the event, an experienced event photographer will send images that are already touched up and ready for sharing on social media. Your marketing team will be able to get the images up and moving on social media shortly after the event and use them in future blog posts, news news releases, and contributed articles. Combine the posts with a few industry hashtags; you'll drive visibility from people who didn't even attend the event!
If you're a Charlotte-area business and you're participating in the event as an attendee, posting professional, share-worthy photos can serve as a newsworthy scoop for your business in the local spotlight! Let the organizer know that you're bringing a corporate photography expert and you'll be creating news, blogs, and social media posts to position your company as a leader who invests in corporate wellness for all of your team members. If the organizer has the potential to help you grow your business, offer to share some of the photos with them. Event specialists will be grateful for the extra coverage and will provide guidelines.
A Corporate Event Photographer Can Capture Fun, Formal, or Both: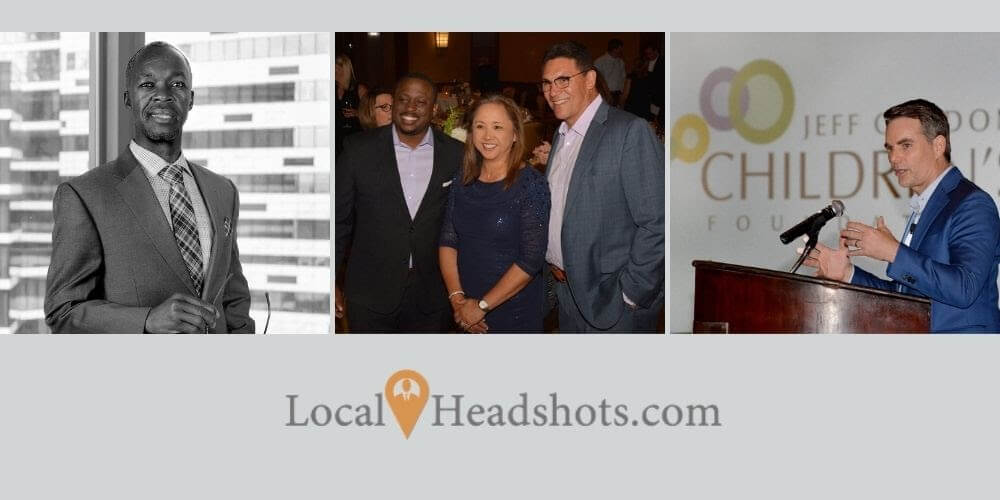 Your team can snap photos with their smartphones, but nothing takes the place of professional photography when you're trying to stand out online. Leading brands have been using industry events and photography to expand their presence online for years. Here's an example:
Corporate Photography Ideas from Citrix Synergy
Citrix Synergy is a leading IT infrastructure event, and countless brands have capitalized on the event's popularity since the first event in 2007-ish.
Type #CitrixSynergy into a social media search bar and take note: MANY brands are showing up as a resource for people who want to view photos, gather information, and learn more. If you're an IT infrastructure service provider or consultant, the event is a goldmine for your marketing team!
Check out these photos from Twitter – we found all of them with a simple hashtag search for #CitrixSynergy:
Showcase Awards
Are your employees and team members shy about sharing corporate posts on their personal social media channels? Give them professional award photos – they may change their mind!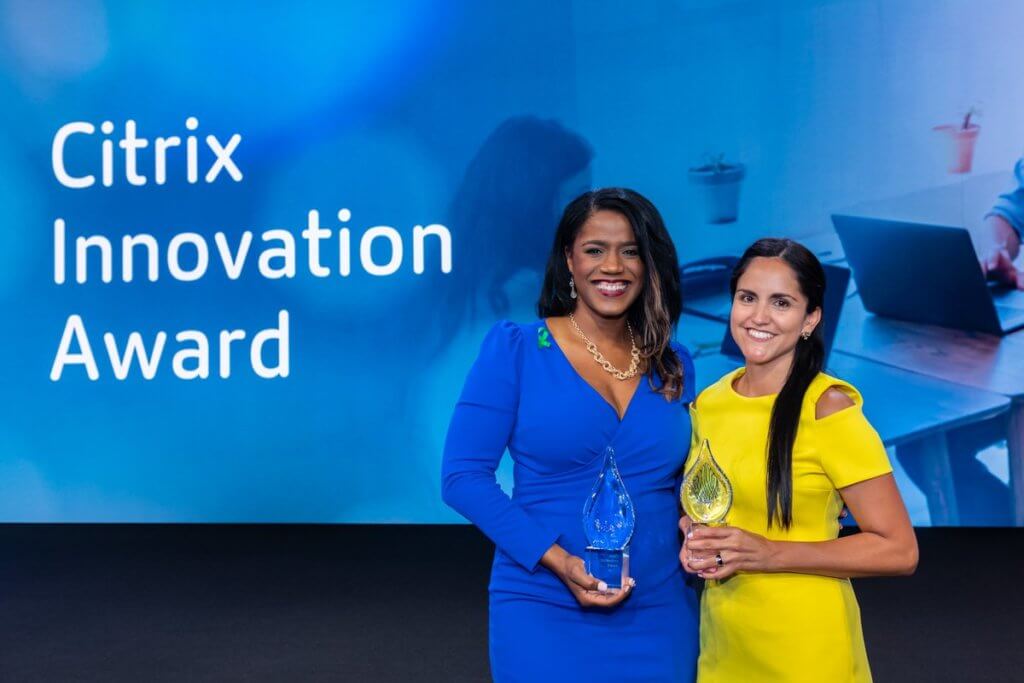 Support A Cause
Windows Virtual Desktop expert, Jim Moyle, captured attention with these associates by sporting #WomenInTech T-shirts. We don't have access to the metrics on his post, but I'm sure he got the attention of every woman who follows #CitrixSynergy – and someday, they may need a virtual desktop consultant or know someone who does. Well played, Jim!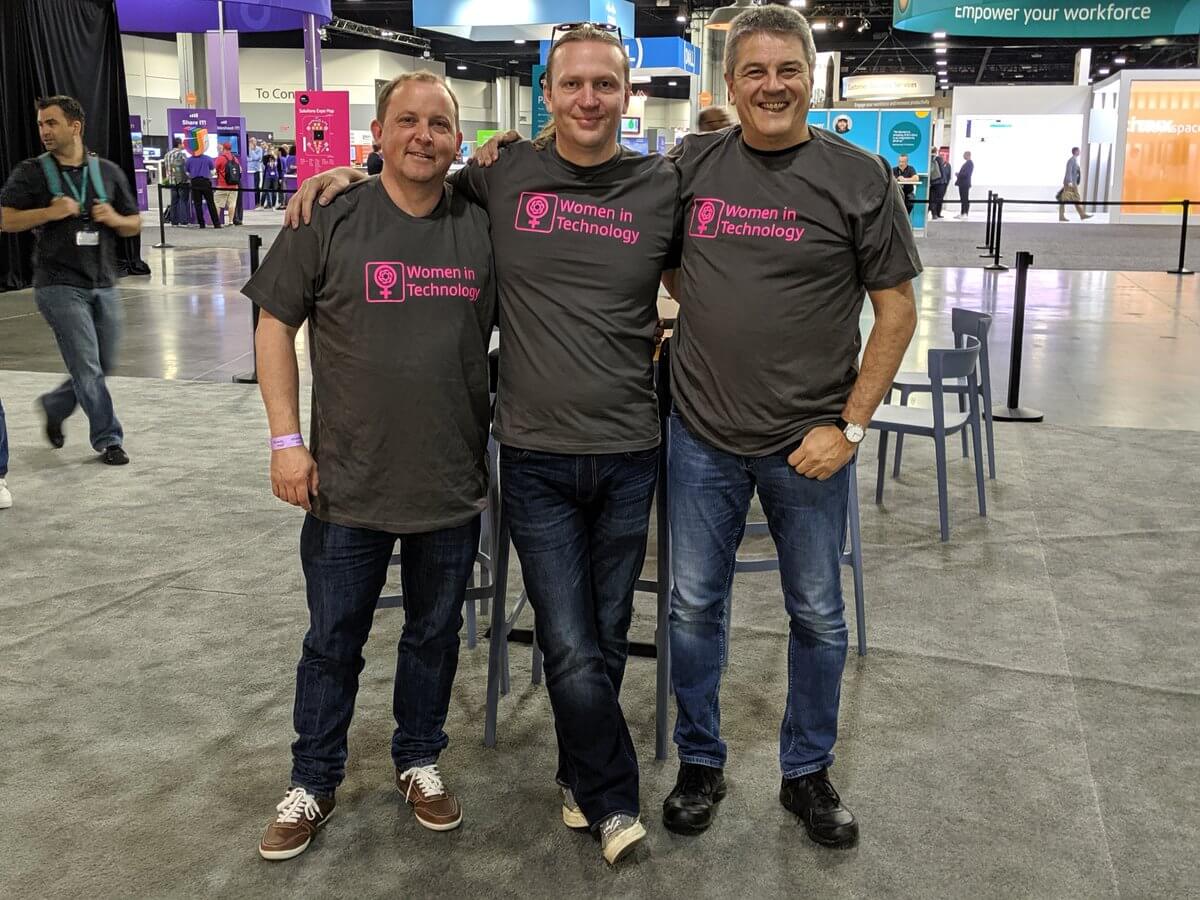 Showcase a Featured Article or Video
SiliconANGLE published this professional headshot image with their interview, and when people share the link on their social media channels, the photo shows with each social post. The woman pictured in the photo is Carolina Milanesi, Founder of The Heart of Tech. Carolina gives the article a touch of humanity and warmth; tech can be a "cold" topic. The photographer did a fantastic job capturing her personality, inviting people to click-through and listen to or read the interview.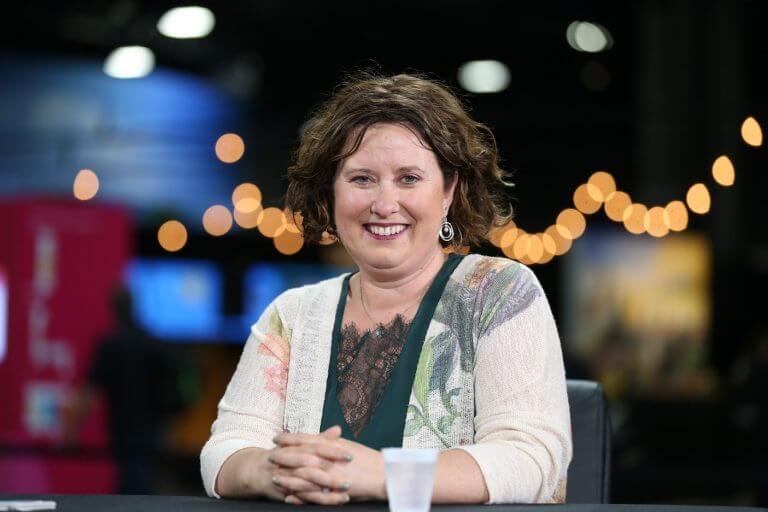 YOU'RE READY TO TALK TO A CORPORATE EVENT PHOTOGRAPHER, NOW WHAT?
We can provide guidance on using professional images as a launching point for content and social media promotions. Fill out our short form or give us a call, and we'll schedule a time to learn more about your event.
"*" indicates required fields